THURMAN TO YOU CATERING NOW AVAILABLE!
Catering services that bring Thurman's World-Famous Burgers to your event!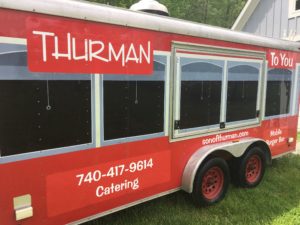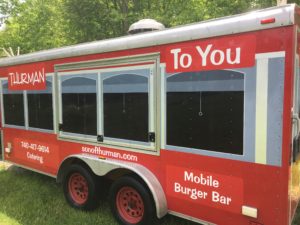 We are now booking select events immediately.  Thurman's Mobile Burger Bar will treat your guests to our famed burgers, fries, and select Thurman goodies at your location, in a backyard cookout format.  Your friends and family may not believe you until the big day that we are bringing Thurman To You!
Here are the highlights:
For the first few events, special pricing is available such that we may perfect our on-site magic.  We'd like to keep the first few events to 100 persons or less, if possible
We will feature our 75 year old burger recipe, junior size (6 oz.) given the nature of on-site cooking; but hey, your guests can get 2nds, 3rds…with your choice of cheese, and plenty of options (bacon, mushrooms, peppers), along with all the condiments.
Our awesomely incredible fries, piping hot and cooked right there in our trailer!

Select appetizers! Give us a call and let's see which you think your guests will love!

Bottomless salad bowls and soft beverages to round things out.

Feel like pork, or chicken?  We can do that as well!
The layout is burger bar/cookout format.  Our awesome chefs prepare the hot goods in our 21' trailer, and our stalwart staff lays out the magic on service tables, prepared for your guests to load up their plates and chow down!
For booking and pricing, call us at (740) 417-9614 and ask for Adrianne or send us an email!